About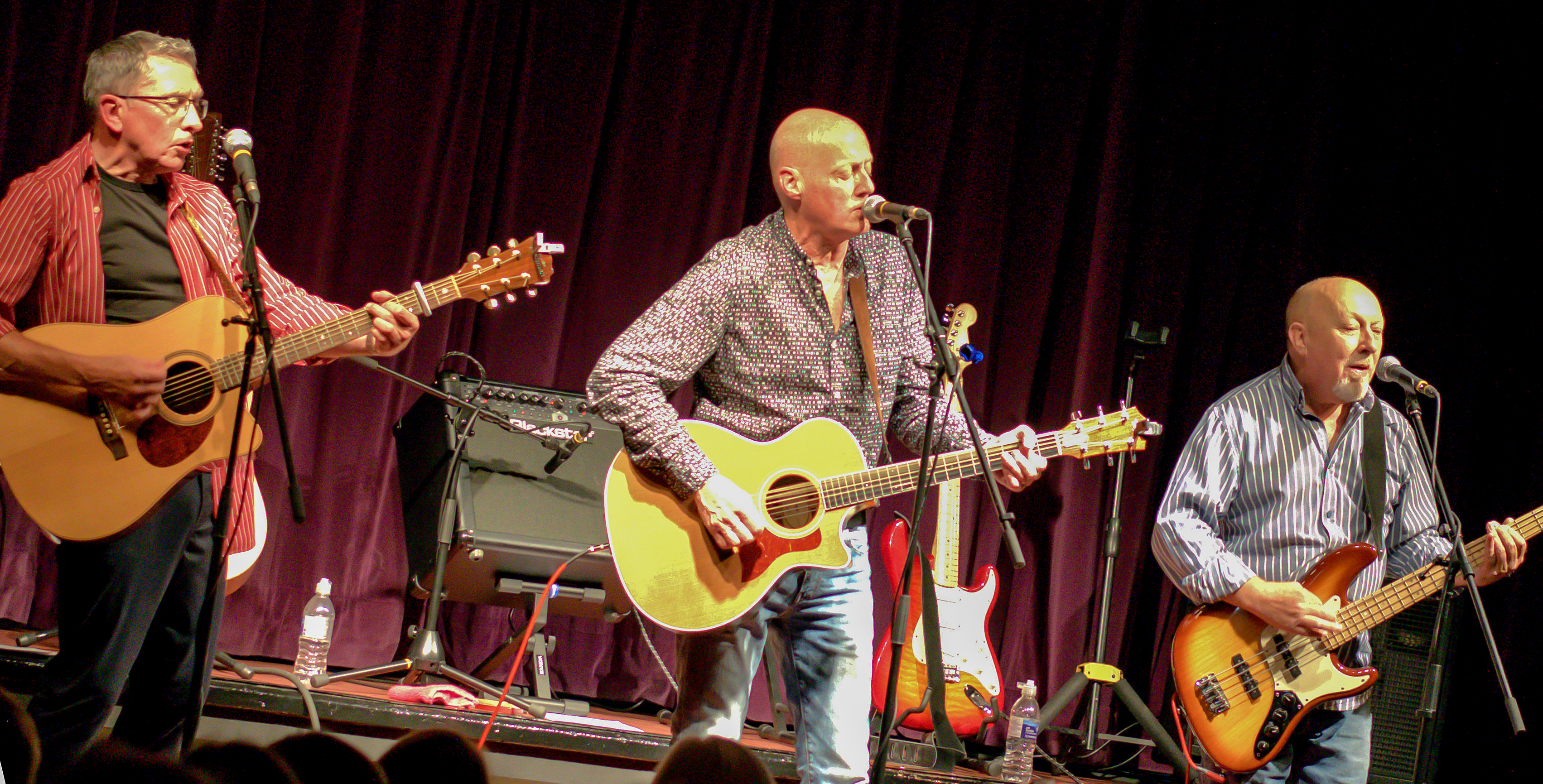 Photo: David Gillett
Dawson Dean – Graham Dawson and Chris Dean, are Staffordshire Moorlands based singer/songwriters and guitarists. They formed in 2016. In October 2017, they released their first album, Good Times, featuring twelve of their original songs. The duo added bass player Geoff Berrow to the line-up in January 2019, effectively making them a three piece, with him playing on their second album.
The second album, Symphony of Sound , with10 original songs, was released in July 2019. The first two albums can be found on all the usual internet music sites including iTunes, Amazon Music and YouTube.Their new album Wasting Time, with twelve original tracks, is due for release in Spring 2023. The official release date will be 22nd April, when it will be available online. This date coincides with the official launch gig at Biddulph Town Hall. The band will be selling the album at gigs prior to the release date.
Dawson Dean are experienced, confident performers of their self-penned songs, which are an eclectic, fine blend of acoustic, contemporary Folk/Pop/Americana, with strong melodies, close harmony vocals and duelling guitars. The addition of bass guitar gives them added punch and rhythm that compliments the two guitars. They play in a relaxed style which is very appealing, creating their own unique sound.
Chris Dean
Chris had his first record deal and LP released in 1979 with The Crooks. In the intervening years he has played electric and acoustic guitar, done countless gigs, played with two or three different bands, released several albums, and been influenced by many. He formed Dawson Dean in 2016 with Graham Dawson, when the two of them met and discovered they had a lot in common, being singer songwriter guitarists, and living near to each other in the Staffordshire Moorlands! He loves the acoustic sound that the band creates, and the contribution that Geoff Berrow on bass has made, to compliment the overall effect. Chris has written six of the twelve songs that are on the latest album, Wasting Time.
Graham Dawson
Graham started playing guitar when he was 12 and started writing songs in his early teens.
His early influences were Paul Simon, The Beatles, John Denver, Ralph McTell. More recently Jez Lowe and various Americana acts have widened his song writing style.
He started performing in local pub & club bands in the 1970s, before taking a 25 year "sabbatical" from live performances, until a move to the Biddulph area and the release of his first album "These Things Are Ours" in 2012 re-ignited his desire to perform.
Geoff Berrow
In the 1970s, Geoff began his musical career as guitarist and vocalist in the clubs and pubs of the Midlands and North West before becoming involved in recording and audio visual production. He also took a long break from live performance but retained contact with music through choirs and musical theatre. After a stint playing in folk clubs and moving to bass guitar, he was a founder member of the successful bluegrass band "The Slippery Hill Boys" performing at mainly private functions until the band split up in 2017.
Geoff shares similar musical influences and enjoys adding a new dimension to the songwriting of Dawson and Dean.